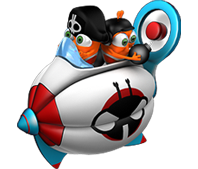 Description
Edit
"Arr! We be pirates of the stars! We drive this mighty ship to throw things at our enemies. And we always win!" Slow heavy armored combat ship. Once it gets to its target, it turns it into ashes!
Tips:

Is the most powerful air unit so far, can do a LOT of damage to ground units/buildings.
Can mow through the anti-air turrets without too much difficulty.
Have one very critical weakness: Falcons, Colossus and even wasps and Bazookas in bunkers will utterly shred them.But they need Many Minutes To Destroy Them.Bazookas cannot Shred them by The target of This Unit.
Bunkers are a major threat, as they will be able to rip into the Zeppelin from outside its AOE range if the Zeppelin is concentrating on a different building.
If you do plan to use these, avoid bunkers at all costs.(Because Expensive)
You will need your Star Base on Level 8 to get it.
This unit takes the longest time to produce being 20 minutes.
It can be thought of as a moving air version of the mortar.
Expansions
Edit

To see detailed info of how to unlock each level, visit Troop Level Unlocks
on Laboratory's Page.
Level

1
20m
232,500
16,000
4,200
Area
Blast
1/Sec
Anything
Ground
0.1
50
70
2
20m
418,500
16,000
4,800
Area
Blast
1/Sec
Anything
Ground
0.1
50
70
3
40m
627,750
16,000
2,800
Area
Blast
1/Sec
Anything
Ground
0.5
50
70
4
40m
818,400
20,000
2,800
Area
Blast
1/Sec
Anything
Ground
0.5
50
70
5
40m
1,116,000
20,000
3,200
Area
Blast
1/Sec
Anything
Ground
0.5
50
70
6
40m
1,488,000
20,000
3,200
Area
Blast
1/Sec
Anything
Ground
0.75
50
70
7
-
-
-
-
-
-
-
-
-
-
-