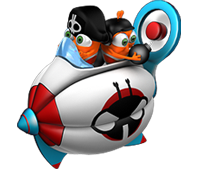 "

Slow heavy armored combat ship. Once it gets to its target, it's lethal!

"

 

— In-game description 
Description
Tips:

Can do a lot of damage to ground units and buildings.
Can mow through the anti-air turrets without too much difficulty.
Has one very critical weakness: Falcons, Colossus and even Wasps and Bazookas in Bunkers will shred them. But they need alot of time to destroy them.
Bunkers are a major threat, as they will be able to attack the Zeppelin from outside its AOE range if the Zeppelin is concentrating on a different building.
This unit takes the longest time to produce being 20 minutes.
It can be thought of as a moving air version of the Mortar.
Expansions

To see detailed info of how to unlock each level, visit Troop Level Unlocks
on Laboratory's Page.
| Level | | | | | | | | | | | |
| --- | --- | --- | --- | --- | --- | --- | --- | --- | --- | --- | --- |
| 1 | 20m | 232500 | 16000 | 4200 | Area | 0.33/Sec | Anything | Ground | 0.175 | 90 | 70 |
| 2 | 20m | 418500 | 16000 | 4800 | Area | 0.34/Sec | Anything | Ground | 0.2 | 90 | 70 |
| 3 | 20m | 627750 | 16000 | 5600 | Area | 0.37/Sec | Anything | Ground | 0.25 | 90 | 70 |
| 4 | 20m | 818400 | 20000 | 5600 | Area | 0.40/Sec | Anything | Ground | 0.25 | 90 | 70 |
| 5 | 20m | 1076150 | 20000 | 6400 | Area | 0.45/Sec | Anything | Ground | 0.3 | 90 | 70 |
| 6 | 20m | 1506600 | 20000 | 7500 | Area | 0.5/Sec | Anything | Ground | 0.3 | 90 | 70 |
Gallery
See Also
Collection Items (Zeppelin)