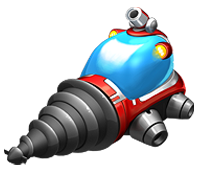 Description
"Like moles, which inspired us, we hide underground until it's the perfect time to attack! Hire us if you like a great show."

Tips:

Specialized in taking down defenses.
Moves towards its target underground and resurfaces next to it to avoid damaged.
Useful for surpassing walls.
Firebit uses it to attack you quite early on the game.
Without a gun this unit will drill the turrets to pieces!
Expansions

To see detailed info of how to unlock each level, visit Troop Level Unlocks
on Laboratory's Page.
Level

1
4m
13,950
2600
300
Single
Shot
1.25/Sec
Defenses
Ground
1.5
50
50
2
4m
20,950
3200
300
Single
Shot
1.25/Sec
Defenses
Ground
1.5
50
50
3
4m
31,400
3200
350
Single
Shot
1.25/Sec
Defenses
Ground
1.5
50
50
4
4m
34,900
3200
350
Single
Shot
1.42/Sec
Defenses
Ground
2
50
50
5
4m
41,850
4000
350
Single
Shot
1.42/Sec
Defenses
Ground
2
50
50
6
4m
55,800
4000
400
Single
Shot
1.42/Sec
Defenses
Ground
2
50
50
7
4m
60,000
4500
450
Single
Shot
1.42/Sec
Defenses
Ground
2
50
50
Gallery
See Also