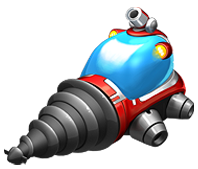 "

Moves underground towards its target. Useful for surpassing walls.

"

 

— In-game description 
Description
Tips:

Specialized in taking down defenses.
Moves towards its target underground and resurfaces next to it to avoid damaged.
Useful for surpassing walls.
Firebit uses it to attack you early on the game.
Do not use moles inside bunkers, as these units will do nothing when your base is attacked!
Expansions

To see detailed info of how to unlock each level, visit Troop Level Unlocks
on Laboratory's Page.
| Level | | | | | | | | | | | |
| --- | --- | --- | --- | --- | --- | --- | --- | --- | --- | --- | --- |
| 1 | 4m | 11630 | 2700 | 600 | Shot | 1.67/Sec | Defenses | Ground | 1.5 | 90 | 50 |
| 2 | 4m | 20950 | 2800 | 650 | Shot | 1.67/Sec | Defenses | Ground | 1.5 | 90 | 50 |
| 3 | 4m | 31400 | 2900 | 700 | Shot | 1.67/Sec | Defenses | Ground | 1.5 | 90 | 50 |
| 4 | 4m | 34900 | 3000 | 750 | Shot | 2/Sec | Defenses | Ground | 2 | 90 | 50 |
| 5 | 4m | 40360 | 3500 | 800 | Shot | 2/Sec | Defenses | Ground | 2 | 90 | 50 |
| 6 | 4m | 56500 | 4000 | 900 | Shot | 2/Sec | Defenses | Ground | 2 | 90 | 50 |
Gallery
See Also