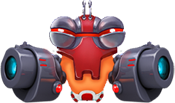 Description
Edit
"We are Starlinators, the best trained Starlings you'll ever see. You have to be very careful, we might harm you if you get too close!"
Heavy unit. Specialized in destroying enemy defenses.
Tips:

Starlinators are the most Powerful Infantry units in the game.
Be aware that their range is notably short so they will get into range of defences very easily.
They are very expensive, mostly when upgraded!
Expansions
Edit

To see detailed info of how to unlock each level, visit Troop Level Unlocks
on Laboratory's Page.
| Level | | | | | | | | | | | |
| --- | --- | --- | --- | --- | --- | --- | --- | --- | --- | --- | --- |
| 1 | 4m | 18,600 | 1,200 | 1.5k | Single Shot | 0.8/Sec | Defenses | Ground | 0.5 | 90 | 20 |
| 2 | 4m | 33,500 | 1.500 | 750 | Single Shot | 0.8/Sec | Defenses | Ground | 0.5 | 140 | 20 |
| 3 | 7m 30s | 50,200 | 1.500 | 900 | Single Shot | 0.8/Sec | Defenses | Ground | 0.5 | 140 | 20 |
| 4 | 7m 30s | 65,100 | 1.800 | 900 | Single Shot | 1/Sec | Defenses | Ground | 0.75 | 140 | 20 |
| 5 | 7m 30s | 83,350 | 1.800 | 1.200 | Single Shot | 1/Sec | Defenses | Ground | 0.75 | 140 | 20 |
| 6 | 7m 30s | 107,150 | 2.000 | 1.500 | Single Shot | 1/Sec | Defenses | Ground | 0.75 | 140 | 20 |
| 7 | 7m 30s | 160,725 | 3.000 | 2.000 | Single Shot | 1/Sec | Defenses | Ground | 0.75 | 140 | 20 |