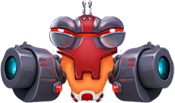 "

Heavy unit. Specialized in destroying enemy defenses.

"

 

— In-game description 
Description
The Starlinators are offensive units that targets towards defensive buildings such as turrets and bunkers. They deal huge amount of damage and have descent stats in general. To take advantage of these units, it's recommended to have some support backup (such as the Beetle Tank) that can absorb any potential damage that they might get, so they can attack enemy defenses without being taken down.
If possible, it's recommended these units to be used instead of any other trainable infantry unit available, due to their destructive potential, low warpgate size, and moderate cost (at low levels).
Tips:

Starlinators are the most powerful infantry units in the game.
Be aware that their range is notably short so they will get into range of defenses very easily.
They are very expensive, mostly when upgraded!
Expansions

To see detailed info of how to unlock each level, visit Troop Level Unlocks
on Laboratory's Page.
| Level | | | | | | | | | | | |
| --- | --- | --- | --- | --- | --- | --- | --- | --- | --- | --- | --- |
| 1 | 4m | 15500 | 1200 | 1500 | Single Shot | 0.8/Sec | Defenses | Ground | 0.5 | 115 | 20 |
| 2 | 4m | 33500 | 1500 | 1800 | Single Shot | 0.8/Sec | Defenses | Ground | 0.5 | 115 | 20 |
| 3 | 4m | 50200 | 1500 | 2000 | Single Shot | 0.8/Sec | Defenses | Ground | 0.5 | 115 | 20 |
| 4 | 4m | 65100 | 1800 | 2400 | Single Shot | 1/Sec | Defenses | Ground | 0.75 | 115 | 20 |
| 5 | 4m | 80380 | 1800 | 2800 | Single Shot | 1/Sec | Defenses | Ground | 0.75 | 115 | 20 |
| 6 | 4m | 148490 | 2000 | 3000 | Single Shot | 1/Sec | Defenses | Ground | 0.75 | 115 | 20 |
Gallery
See Also