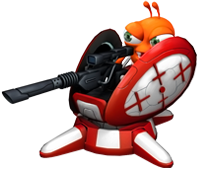 "

Long range. Targets all units. Great for distant enemies.

"

 

— In-game description 
Description
Tips:

Long range, high damage, but slow to reload.
Picks off enemy units before they even get close.
It can protect a larger area.
Is best used as a support tower to other towers because they usually can't last alone.
Putting them outside of your base is a bad idea, if you do it make sure they have support.
They are quite slow to reload and a group of around 15 marines surrounding it should be able to destroy it within 10 - 20 seconds depending on their health and damage level.
It can be thought of as a stationary Marine on defense.
It can attack ground and air units
It is the most numerous turret you can get along side the Cannon Blast
---
Expansions

To see detailed info on how to unlock each level and the total amount of buildings per Base level, visit the Star Base's page.
Level

1
1
--
1000
0
30s
6000
110
272
1.25/s
Single Shot
All Units
3
2
2
1
5000
3000
14m
12000
120
272
1.39/s
Single Shot
All Units
18
3
3
2
20000
9000
36m
17000
130
297
1.56/s
Single Shot
All Units
65
4
4
20
140000
60000
5h
22000
160
297
1.56/s
Single Shot
All Units
457
5
5
?
810000
350000
14h
26000
180
322
1.56/s
Single Shot
All units
2513
6
6
117
4070000
1740000
1d 5h
30000
210
322
1.56/s
Single Shot
All units
12251
7
7
233
6100000
2620000
2d 10h
34000
240
322
1.79/s
Single Shot
All Units
18497
8
8
?
9150000
3920000
3d 14h
37000
280
322
1.79/s
Single Shot
All Units
27728
9
8
?
13730000
5890000
4d 19h
40000
320
347
1.79/s
Single Shot
All Units
41493
10
8
?
23950000
8820000
6d 14h
42000
360
347
1.79/s
Single Shot
All Units
70759
Gallery
See Also