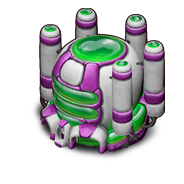 Building Description
Edit
"Store your Minerals here. Upgrade to increase capacity."
The Silo is a building where you can keep your minerals. Minerals can be collected from mines or by looting other players!
The Silos can be found under the Resources Tab in the Shop.
Tips:

Use this building to protect your base(optional) as it takes a long time to destroy giving the chance to turrets to destroy the units.
You use minerals to repair your buildings quicker, activate and upgrade units, attack other players and many other things.
The maximal total storage is: 214.368.000
Expansions
Edit

To see detailed info on how to unlock each level, and the total amount of buildings per level visit: Building Level Unlocks at Star Base's Page.
| Levels | | | | | | | |
| --- | --- | --- | --- | --- | --- | --- | --- |
| Stage 1 | lvl 1 | -- | 460 | 1m | 750 | 11,000 | 2 |
| Stage 2 | lvl 1 | 2 | 1,000 | 23m | 1,400 | 21,000 | |
| Stage 3 | lvl 2 | 4 | 4,200 | 1h | 5,100 | 84,000 | |
| Stage 4 | lvl | ? | | | | | |
| Stage 5 | lvl | ? | | | | | |
| Stage 6 | lvl | ? | | | 24,300 | 502,000 | |
| Stage 7 | lvl 4 | 24 | 66,000 | 6h | 60,000 | 1,300,000 | |
| Stage 8 | lvl 4 | 36 | 133,000 | 9h | 111,200 | 2,700,000 | |
| Stage 9 | lvl | ? | | | | | |
| Stage 10 | lvl | ? | | 16h | | 8,928,000 | |
Buildings Models
Edit