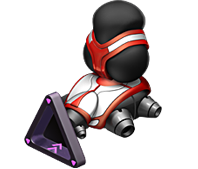 Description
Edit
"Coins and Minerals: Here we go! We love how they spark, we want them all!"
High speed mechanical unit. Specialized in looting resource buildings.
Tips:

You will need your Star Base on Level 4 and to get it.
This unit generally replaces looters when activated, wich later is replaced by the Hoover UFO.
Raider can attack resource builings ONLY!
currently the looter of the factory
Expansions
Edit

To see detailed info of how to unlock each level, visit Troop Level Unlocks
on Laboratory's Page.
| Level | | | | | | | | | | | |
| --- | --- | --- | --- | --- | --- | --- | --- | --- | --- | --- | --- |
| 1 | 5m | 5,600 | 2500 | 120 | Single Shot | 1/Sec | Resources | Ground | 0.8 | 40 | 30 |
| 2 | 5m | 9,400 | 3100 | 120 | Single Shot | 1/Sec | Resources | Ground | 0.8 | 40 | 30 |
| 3 | 5m | 14,100 | 3100 | 160 | Single Shot | 1/Sec | Resources | Ground | 0.8 | 40 | 30 |
| 4 | 5m | 16,300 | 3100 | 160 | Single Shot | 1.25/Sec | Resources | Ground | 0.8 | 40 | 30 |
| 5 | 5m | 23,250 | 3100 | 200 | Single Shot | 1.25/Sec | Resources | Ground | 0.8 | 40 | 30 |
| 6 | 5m | 34,900 | 3700 | 200 | Single Shot | 1.25/Sec | Resources | Ground | 0.9 | 40 | 30 |
| 7 | 5m | 40,000 | 4000 | 300 | Single Shot | 1.25/Sec | Resources | Ground | 0.9 | 40 | 30 |