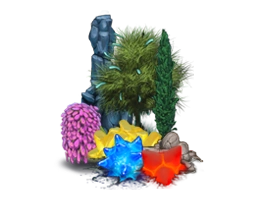 Plants appear on your planet every 6 hours that you are inactive. All plants reward you with: Coins or Minerals, and have a small probability to giveaway

1 or rarely

2. Some of the plants, will also, have a small chance of drop Items for completing some Collections. There are many types of plants, which differ depending on the Planetary System.
Tips
Plants that are large enough can be used to hide turrets like Mortars, Cannon Blasts, Sniper Towers, and Freeze Turrets. This can provide a massive defense bonus for un-prepared looters.
Unlike flash, plants in Pocket Adventures cannot be moved.
Plants Listed by System Color
Plant
Common Planet Plants
Name
Drop Rate

Gravel Stones
common

Longolemonus
common

Longolemonus Big
rare

Mielindrocus
common

Mielindrocus Big
very rare

Spirocles Small
common

Spirocles
common

Spirocles Big
very rare

Trenamore
common

Trenamore Big
very rare
Plant
 Background obstacles 
These obstacles only appear on the background of your main planet.
Name

spaceship crash

small crater

big crater
Plant
 Green Galaxy System 
Name
Drop Rate

Yelluns Big
common

Greboly
common

Gadetina
common

Lilicus
common

Cloudon Small
common

Cloudon
common

Cloudon Big
common

Cloudon Double
rare

Ciprescomun
common
Ciprescomun Big
rare
Plant
 Blue Galaxy System 
Name
Drop Rate

Lithelus
common

Lithelus Big
rare

Shrumic
common

Shrumic Big
rare
Nitfung
common

Nitfung Big
rare

Bambuspade
common

Bambuspade Big
rare

Pigmera
common

Pigmera Big
rare
Plant
 Yellow Galaxy System 
Name
Drop Rate
Sand stones
common
Clay stones
common

Yellowcris
common

Yellowcris Big
rare

Chickela
common

Darkelius Big
rare

Darkelius
common
Plant
 Red Galaxy System 
Name
Drop Rate

Kansard Small
common

Kansard
common

Kansard Big
rare

Yelluns Small
common

Yelluns
common
Yelluns Big
rare

Atlacier Small
common

Atlacier
common

Atlacier Big
rare

Atlacier Extra
very rare
Plant
 White Galaxy System 
Name
Drop Rate

Korice Small
common

Korice
common

Korice Big
rare

Korice Extra
very rare

Blueloon Small
common

Blueloon
common

Blueloon Big
rare

Emerwee Small
common

Emerwee
common

Emerwee Big
rare
Plant
 Purple Galaxy System 
Name
Drop Rate

Purpcrys Small
common

Purpcrys
rare

Fungandano
common

Fungandano Big
rare

Darkelius
common

Darkelius Big
rare

Crackgap
common

Crackgap Big
rare

Crecita
common

Crecita Big
rare
See Also