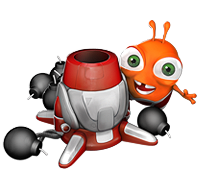 Description
Edit
"We hate explosions: the smaller, the worse! Our shiny mortars and precious will make sure we leave no !"
Anti-ground defensive turret. When its projectiles hit the ground they deal massive area damage.
Tips:

This tower is able to kill a Colossus in a few shots.
It's the king of killing ground units.
It has a absolutly HUGE range so for the best defense, hide it in the middle of your base behind large buildings and players un-aware that it is there will go ka-boof!
A good strategy is to place a level 2 mortar with a fully upgraded Rocket Launcher next to it. This will provide effective defense against ground and air units.
You may also want to put a Freeze Turret near it as it has a slow reload time.
Can't attack air units.
It is currently the most expensive turret and the last one you can get, coming just after the freeze turret.
Because this is the most powerful of all turrets you do not much XP for destroying it!
It could be called the ground version of a Zeppelin? (with a lot more range)
Range: the maximum range is 464, this means a circle with a radius of 9 squares diagonal or 13 squares lateral.
Traducción al Español
Esta torre es muy fuerte, es capaz de matar algunos colosos. Pero esta torre, este rey de la eliminación de unidades de tierra, tiene una debilidad que es la de no atacar a las unidades aéreas; así que necesitas tenerlo junto con un lanzador de misiles o/y una torre láser o/y una torre de tiro.
Expansions
Edit
{{Table Defenses Expansion

| Building Time Stage 1 = 3h | Cost Stage 1 =

140k


- | Health Stage 1 = 32k | Damage Stage 1 = 2,400 | Damage Type Stage 1 = Area Blast | Fire Rate Stage 1 = 0.31/s | Unit Target Stage 1 = Ground | Range Stage 1 = 408 | Experience Given Stage 1 =

644

| Building Time Stage 2 = 29h(?) | Cost Stage 2 =

465k


279k | Health Stage 2 = 40k | Damage Stage 2 = 2,800 | Damage Type Stage 2 = Area Blast | Fire Rate Stage 2 = 0.35/s | Unit Target Stage 2 = Ground | Range Stage 2 = 408 | Experience Given Stage 2 =

1,648

| Building Time Stage 3 = 58h | Cost Stage 3 =

1,120k


450k | Health Stage 3 = 50k | Damage Stage 3 = 3,400 | Damage Type Stage 3 = Area Blast | Fire Rate Stage 3 = 0.35/s | Unit Target Stage 3 = Ground | Range Stage 3 = 464 | Experience Given Stage 3 =

3,125