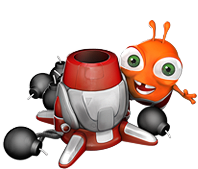 "

Massive area damage with low fire rate. Targets only ground units.

"

 

— In-game description 
Description
Tips:

This tower is able to kill a Colossus in a few shots.
It's the king of killing ground units.
It has huge range so for the best defense, hide it in the middle of your base behind large buildings and players un-aware that it is there will suffer from it's attack.
A good strategy is to place a Mortar with a fully upgraded Rocket Launcher next to it. This will provide effective defense against ground and air units.
You may also want to put a Freeze Turret near it as it has a slow reload time.
Can't attack air units.
It is currently the most expensive turret and the last one you can get, coming just after the freeze turret.
It could be called the ground version of a Zeppelin? (with a lot more range)
Range: the maximum range is 464, this means a circle with a radius of 9 squares diagonal or 13 squares lateral.

Expansions

To see detailed info on how to unlock each level and the total amount of buildings per Base level, visit the Star Base's page.
Level

1
5
?
140000
3h
32000
2400
408
0.31/s
Area Blast
Ground
92
2
5
?
280000

170000

14h
40000
2880
408
0.35/s
Area Blast
Ground
219
3
6
?
1120000

450000

2d 10h
50000
3480
464
0.35/s
Area Blast
Ground
821
Gallery
See Also