"

Standard Infantry. Stronger when deployed in high number.

"

 

— In-game description. 
Information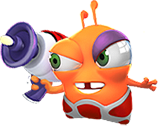 The Marines are the most basic unit in the game, and can attack ground targets only. Their behavior consist of attacking any kind of building present in the enemy's base, and tend to work effectively when used in swarms and in tandem with other units. They can also be used to detect and use enemy's Traps.
Due to their cheapness and small Warp Gate size, they are the easiest unit in which a swarm strategy can be consistently executed without large gold costs or waiting time and are also effective at attacking single-targeted defenses and ground units, but can be defeated easily with AoE attacks. They are also effective at quickly looting or attacking low-protected or unprotected buildings.

To see detailed info of how to unlock each level, visit Troop Level Unlocks
on Laboratory's Page.
| Level | | | | | | | | | | | |
| --- | --- | --- | --- | --- | --- | --- | --- | --- | --- | --- | --- |
| 1 | 3s | 90 | 100 | 60 | Shot | 1/Sec | Anything | Ground | 0.5 | 120 | 10 |
| 2 | 3s | 150 | 200 | 70 | Shot | 1/Sec | Anything | Ground | 0.5 | 120 | 10 |
| 3 | 3s | 200 | 300 | 80 | Shot | 1/Sec | Anything | Ground | 0.5 | 120 | 10 |
| 4 | 3s | 250 | 400 | 90 | Shot | 1/Sec | Anything | Ground | 0.5 | 120 | 10 |
| 5 | 3s | 400 | 500 | 100 | Shot | 1/Sec | Anything | Ground | 0.6 | 120 | 10 |
| 6 | 3s | 410 | 600 | 120 | Shot | 1/Sec | Anything | Ground | 0.6 | 120 | 10 |
Gallery
See Also