"

We dont need a weapon because we are the weapon. A picture is worth a thousand words.

"

 

— In-game description. 
Description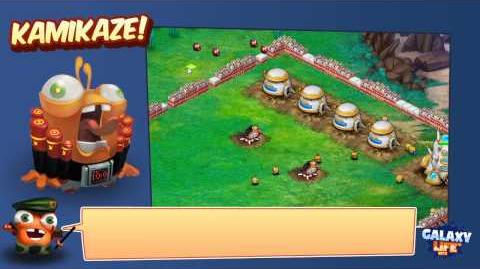 Tips:
The kamikaze is a unit in-game that deals a great amount of damage in a single suicide-bomber style attack. These guys prioritize walls over anything else. As it is a suicide bomber, it dies in the attack. It gains no loot when it damages buildings. However it takes up a ton of Warp Gate space so keep that in mind.
If you can drop them right next to a Bunker and there are no walls around to distract it, this is the perfect counter to that Bunker; even if the bunker is filled with Falcons or Colossi you can drop a couple of these and watch them hit the bunker before the troops inside can get out, wait for it to close up again, rinse and repeat until you either run out of Kamikazes or the bunker is destroyed. Same goes for Mortars if you can't afford to risk air units against them.
Expansions

To see detailed info of how to unlock each level, visit Troop Level Unlocks
on Laboratory's Page.
| Level | | | | | | | | | | | |
| --- | --- | --- | --- | --- | --- | --- | --- | --- | --- | --- | --- |
| 1 | 5m | 1300 | 600 | 4000 | Area blast | 1/Sec | Walls | Ground | 0.9 | 45 | 30 |
| 2 | 5m | 4650 | 900 | 4000 | Area blast | 1/Sec | Walls | Ground | 0.9 | 45 | 30 |
| 3 | 5m | 9300 | 1200 | 4000 | Area blast | 1/Sec | Walls | Ground | 0.9 | 45 | 30 |
| 4 | 5m | 13950 | 1200 | 5000 | Area blast | 1/Sec | Walls | Ground | 0.9 | 45 | 30 |
| 5 | 5m | 17940 | 1500 | 7400 | Area blast | 1/Sec | Walls | Ground | 0.9 | 45 | 30 |
| 6 | 5m | 25110 | 1500 | 9000 | Area blast | 1/Sec | Walls | Ground | 1 | 45 | 30 |
Gallery
See Also