Welcome to Galaxy Life: Pocket Adventures Wiki!

Galaxy Life: Pocket Adventures is the iOS version (iPhone, iPad and iPod Touch) and Android version of the social game Galaxy Life developed by Ubisoft. It is a real time strategy game where you collect resources, and aim to rebuild the mighty Starling empire.
But beware, other players have the same goals as you.

   The game has been Reborn! Check the Reborn page!!!

Index

The following infoboxes shows all the aspects of the game regarding Gameplay, Buildings, Troops, Items and Resources of the Starling Universe; as also, all the aspects linked
to the game Environments, Objectives and Subjects. You will find this same info on the top Navigation Bar.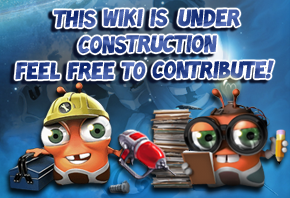 To Do List
You must be registered to edit.
Rework every unit page
Rework every galaxy page
Rework Alliances page
Rework Collections page
Rework Freeze Turret page
Rework My Stuff page
Add categories to pages
Add tons of missing images in almost every page
Fix unit data to be accurate and organized
Get a community page
Recent Activity

See all >
Official Game Updates
See table expanded >
Galaxy Life Version 1.3.4
(08/02/2012) By Chubi (GL Forum Admin)
Hi Earthlings!
Here you can find every detail about our latest build. Note that Reptice has arrived to GLPA, including his popular Freeze Turret and a new chain of missions. Also, premium support will take care of our most dedicated players.
Improvements
• New npc, named Reptice, who brings new missions and a defensive turret.
• Premium Support available to our most valuable users.
• Any process that takes more than 1 hour will send a notification when finished.

Bug Fixes
• Fixed a bug that allowed to take revenge too many times.
• Fixed a bug that allowed to misplace a building.
• Fixed a bug that caused the headquarter to disappear.
• Fixed a bug that prevented decoration objects to reappear (rocks/trees/...).


The servers for both computer and mobile have shut down. Its impossible to get back on, its the end of Galaxy Life...
See more >