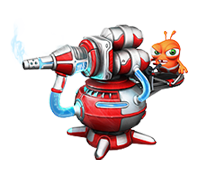 Description

Slow down ground enemy units, speed and shot ratio.
Tips:

You will need to destroy Reptice's Star Base to be able to construct this turret because he has the blueprints for it. So far it is the only one that needs to be activated.
It's best placed cradled by other turrets (except other Freeze Turrets), where it can be most helpful and they will defeat enemy units quickly and effectively.
A Freeze Turret placed between a few Cannon Blasts and a Missile Launchers can really save your planet if you place it correctly and strategically!
Freeze Turrets standing alone will have no big effect on the troops, they will just slow them down. Do not put them alone, they will not do any damage!
It switches targets after every shot, preferring ones that have not been frozen yet.
A freeze turret cannot be compared to any army units.
Range: the maximum range is 350, this means a circle with a radius of 6.5 squares diagonal or 9 squares lateral.
Expansions

To see detailed info on how to unlock each level and the total amount of buildings per Base level, visit the Star Base's page.
Level

1
3
?
150000
1m
4000
/
200
1.25/s
Single Shot
Ground Units
388
2
5
?
360000
5000000
12h
7500
/
250
1.25/s
Single Shot
Ground Units
5334
3
6
?
1100000
7000000
1d
10000
/
300
1.25/s
Single Shot
Ground Units
9068
4
7
?
1900000
12000000
3d
15000
/
350
1.25/s
Single Shot
Ground Units
15848
Gallery
See Also