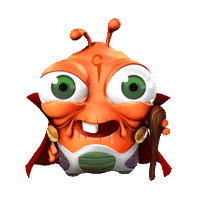 Description
Elderby is an Old and Wise Starling. He is the first friend you will ever have. When you begin the game, you look up to Elderby. He might be referred to as 'the great player'. He kept level 7 before the update, which is impossible for his planet's level. He gives you a few missions, the last one being Training Days. His level is 100 but it is possible to pass his level. The more you play, the more realistic it is to have a planet like Elderby's one, and even much powerful.

Traducción al Español
Elderby es un viejo y sabio estornino. Él es el primer amigo que tendrás. Cuando comienzas el juego, miras a Elderby. Él podría ser referido como "el gran jugador". Mantuvo el nivel 7 antes de la actualización, lo cual es imposible para el nivel de su planeta. Él te da algunas misiones, la última es Días de Entrenamiento.

Su nivel es de 100 pero es posible pasar su nivel. Cuanto más juegues, más realista es tener un planeta como el de Elderby, e incluso mucho más poderoso.
Facts:
Gallery
Community content is available under
CC-BY-SA
unless otherwise noted.