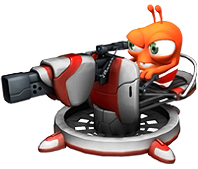 DescriptionEdit
"Need a massive killer? We're the bomb! We can kill many starlings with a couple of blasts. Killing enemy crowds is our thing"

Tips:
Short range but high damage, this turrets's bomb explodes in large groups of ground Units taking them down. The Cannon Blast can be used as a bait, to beat looters in large amounts, or be used as support damage, but this defensive turret is weak against a unit with high health and cannot fire at flying units, so make sure that other Defensive Buildings can protect the Cannon Blast.
It is the first turret you get and along with the the Sniper Tower. It's also the most numerous one you can get.
The Cannon Blast can be thought of as a "stationary" version of beetle tank on defense.
Range: the maximum range is 272, this means a circle with a radius of 5 squares diagonal or 7 squares lateral.
ExpansionsEdit

To see detailed info on how to unlock each level, and the total amount of buildings
per Base level visit: Building Level Unlocks at Star Base's Page.

Level

1
1
--
1,000
0
6m
6,000
70
173
0.62/s
Area Blast
Ground
4
2
2
1
5,000
3,000
14m
12,000
70
186
0.66/s
Area Blast
Ground
18
3
?
?
30,000
10,000
54m
17,000
70
198
0.74/s
Area Blast
Ground
4
4
8
140,000
60,000
2h
22,000
100
198
0.78/s
Area Blast
Ground
 ?
5
5
32
810,000
360,000
8h
26,000
120
223
0.83/s
Area Blast
Ground
 ?
6
6
96
4,070,000
1,740,000
24h
30,000
140
223
0.83/s
Area Blast
Ground
 ?
7
7
233
6,090,000
1,740,000
58h
34,000
170
223
0.89 /s
Area Blast
Ground
 ?
8
?
?
9,110,000
1,740,000
86h
37,000
190
248
0.89 /s
Area Blast
Ground
9
?
?
13,690,000
1,740,000
115h
40,000
220
248
0.89 /s
Area Blast
Ground
10
?
?
20,570,000
1,740,000
158h
42,000
240
272
0.89 /s
Area Blast
Ground