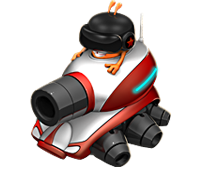 Description
Edit
"Our mission in life is to get rid of our enemies. We are a force to be reckoned with!"
Die hard armored mechanical unit.

Tips:

Strong unit which generally forms the core of most armies until the Colossus is unlocked and activated.
Basically a lesser version of the Colosuss.
It's very cheap
It hasn't got as much damage as the bazooka but it has a lot more health.
Commonly used with bazookas.
As it has quite a lot of health group of them is good for destroying turrets, including bazookas worst nightmare - Cannon Blast.
By putting one one side and a few flamethrowers the other side you can almost guarantee your victory!
Expansions
Edit

To see detailed info of how to unlock each level, visit Troop Level Unlocks
on Laboratory's Page.
| Level | | | | | | | | | | | |
| --- | --- | --- | --- | --- | --- | --- | --- | --- | --- | --- | --- |
| 1 | 4m 00s | 2,350 | 2500 | 200 | Area Blast | 0.5/Sec | Anything | Ground | 0.3 | 120 | 30 |
| 2 | 4m 00s | 2,600 | 2500 | 200 | Area Blast | 0.5/Sec | Anything | Ground | 0.4 | 120 | 30 |
| 3 | 4m 00s | 3,900 | 2500 | 250 | Area Blast | 0.5/Sec | Anything | Ground | 0.4 | 120 | 30 |
| 4 | 4m 00s | 5,200 | 2750 | 250 | Area Blast | 0.5/Sec | Anything | Ground | 0.4 | 120 | 30 |
| 5 | 4m 00s | 7,450 | 2750 | 300 | Area Blast | 0.5/Sec | Anything | Ground | 0.4 | 120 | 30 |
| 6 | 4m 00s | 11,150 | 3000 | 300 | Area Blast | 0.5/Sec | Anything | Ground | 0.4 | 120 | 30 |
| 7 | 4m 00s | 12,000 | 3700 | 350 | Area Blast | 0.5/Sec | Anything | Ground | 0.4 | 120 | 30 |