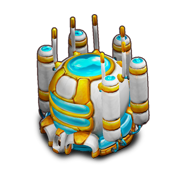 Description
The bank allows you to store the collected money from Compact Houses.
Tips:

Use this building to protect your base as it takes a long time to destroy giving the chance to turrets to destroy the units.
The star base also allows 9,000 extra storage but banks are mainly used.
Coins are produced from Compact Houses and are the most precious resource.
The maximum total storage is: 196,585,000
Expansions

To see detailed info on how to unlock each level, and the total amount of buildings per level visit: Building Level Unlocks at Star Base's Page.
Levels

Stage 1
lvl 1
--
460
30s
750
11,000
2
Stage 2
lvl 1
2
1,000
23m
1,400
21,000
6
Stage 3
lvl 2
4
4,200
1h
5,100
84,000
Stage 4
lvl
8,300
2h
9,500
168,000
Stage 5
lvl 3
8
12,000
2h
13,200
252,000
*
Stage 6
lvl
25,000
3h
24,400
502,000
Stage 7
lvl 4
24
66,000
6h
60,000
1,338,000
*
Stage 8
lvl 4
36
133,000
9h
111,200
2,679,000
*
Stage 9
lvl 5
44
221,000
11h
175,000
4,465,000
*
Stage 10
lvl
442,000
16h
316,600
8,928,000
Buildings Models
Gallery
See Also